Staff & Gin Bale History
05/02/23 10:17:23 AM
Anthony Sisemore, General Manager
Anthony has been with us for six fabulous harvest seasons where he is the former office manager and truck dispatcher and now, the General Manager. Growing up in Hale Center, Texas, on the farm, he was located in the center of cotton country, where he discovered a love for the row crop. He is married to Lori and is the father to three grown children. He likes to cook, read, and spend time with his family -- more importantly his two grandbabies. His favorite part about working for the gin has been the relationships built with his producers and getting to see the wide area that we serve. Anthony is a member of the First Baptist Church in Dumas.
Alexa Reed, Marketing and Communications Manager
Alexa has an extensive background in cotton and agriculture as she brings enthusiasm and new ideas to Moore County Gin, where she has now completed her seventh cotton season. She spends her spare time with her family, working on their ranch, rodeoing or just being outside alongside her four children. Alexa is a member of the Vice President of the Sherman County Child Welfare Board and attends the First Baptist Church of Stratford.
Seth Witt, Gin Superintendent
Seth joined the Moore County Gin family in June of 2020 after previously working for Lummus Corporation. Seth earned a Bachelor Degree in Agriculture Systems Management at Texas A&M University. As the Field Service Technician and Project Manager for Lummus Corporation. His extensive knowledge of gin systems strengthened as he managed and assisted the construction, installation, and commissioning of four new gin plants in the past three years with Lummus. Seth is the former President of the AGSM Club at Texas A&M University and enjoys playing guitar, golfing, and fishing.
Regina Gorham, Bookkeeping and Human Resources
Regina joined the team just before the 2021 cotton harvest started but jumped right in, with ease, as she has 12+ years of previous bookkeeping and HR employment under her belt. She is a busy mom of 5 kids, 2 still in the home, and loves to cook, host events, and crafting, all while an active volunteer in Dumas with the Chamber of Commerce, Dumas ISD, and church. Regina loves people and hopes each day to have touched someone's life in a whay that makes it better. Her favorite part about working for MCG is the staff and atmosphere which is encouraging and uplifting -- truly a family, while also learning about the cotton indusrty.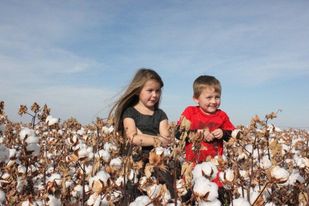 History Bale Count:


2005: 91,967
2006: 92,142
2007: 44,436
2008: 37,162
2009: 34,550
2010: 71,131
2011: 93,370
2012: 102,652
2013: 42,518
2014: 53,173
2015: 36,655
2016: 103,349
2017: 255,364
2018: 225,042
2019: 55,223
2020: 64,365
2021: 65,402
2022: 66,351

To Date Gin Total: 1,534,852 bales